What's New In GEM: GEOSPEX, UI & Website, Project Reports, & More
BuildCentral is pleased to announce the (re)launch of its new and improved Geospatial Mining and Energy (GEM) product, which offers planned construction data for mining, oil & gas, and renewable energy projects in the United States and Canada. After over a year in development, an easy-to-use portal, advanced mapping features courtesy of GEOSPEX, and comprehensive project reports tracking energy and mining projects from proposal through completion highlight the revamped GEM. Without any further ado, let's get into our rundown of what's new in GEM!
Check out the GEM press release on PR Newswire | Subscribe to the brand-new GEM Newsletter
GEOSPEX
Planned Construction Visualization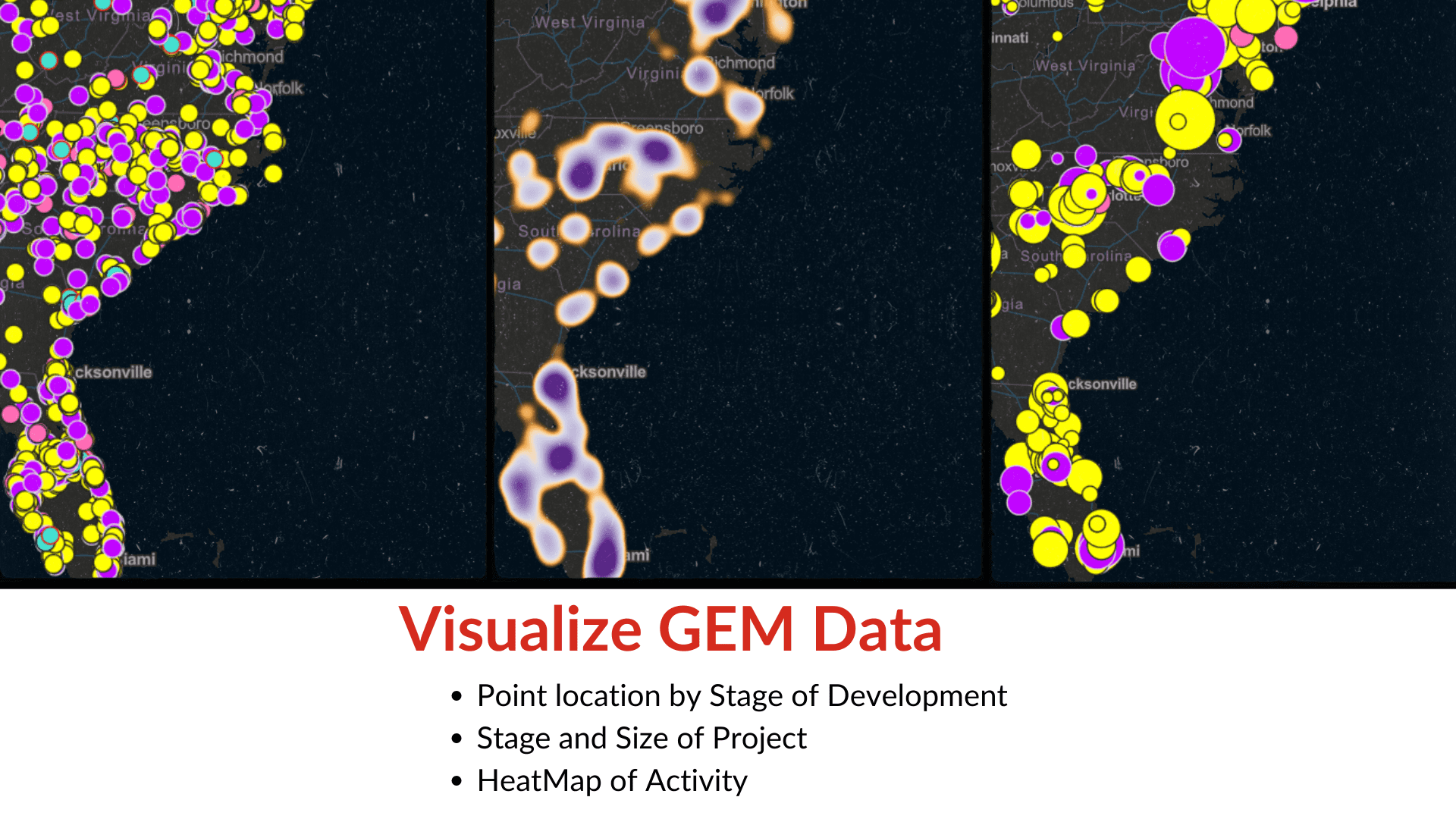 GEOSPEX is a planned construction visualization tool that BuildCentral released originally in June 2021 and quickly introduced to its suite of planned development products. That said, only now has GEOSPEX been integrated into GEM. The addition should revolutionize the way users see and interpret the planned energy and mining projects marketplace.
GEOSPEX maps not only display accurate site locations for planned projects, but they also denote construction stage, project values, heatmaps and clusters of busy locales for a given project type, and even estimated power output.
Mapping Overlays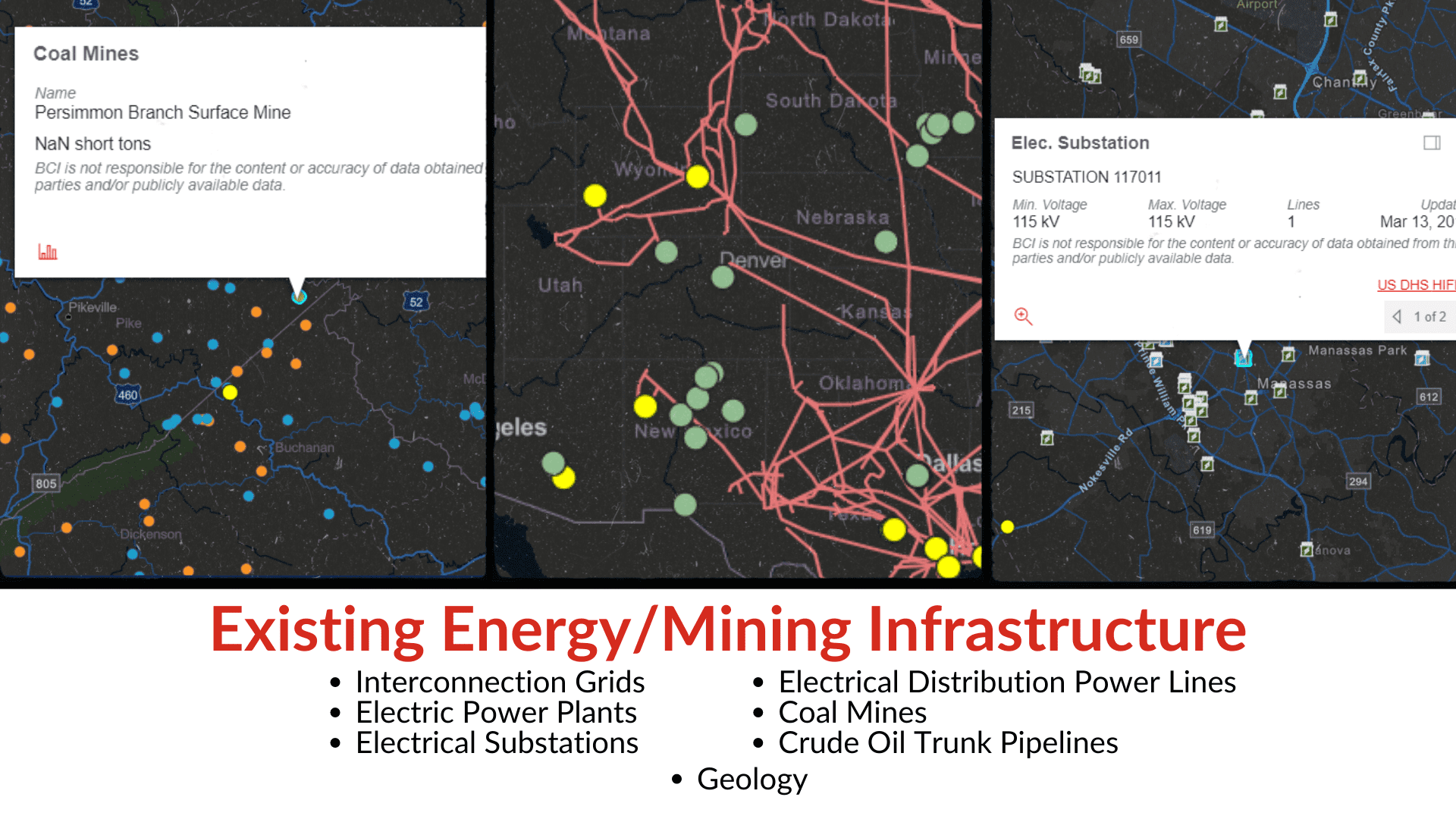 The integration of GEOSPEX into GEM facilitates more than just planned project visualization. Additionally, GEOSPEX features mapping overlays to highlight relevant geographic, political, meteorological, demographic, and construction features. For example, preexisting and completed energy and mining infrastructure is also visible.
Beyond already-built facilities, census regions, zip codes, American Indian reservations, opportunity zones, and city, county, and state boundaries are available. More so than perhaps with any other construction type, energy and mining projects are highly dependent upon meteorological patterns. As such, our GEOSPEX maps display flood zones; snow depth; recent and ongoing wildfires; hurricane impact zones; NOAA Extreme Weather Warnings; monthly precipitation outlooks; and even land parcel ownership.
Lastly, GEOSPEX offers drive-time and distance buffers that can show you a radius of driving duration in minutes or distance in miles from any given point. That way, you can isolate those projects that are most easily accessible.
Refreshed UI & Website
Perhaps the most exciting update to our polished GEM experience is its intuitive user portal and modernized website. Standardized to align with the design of our other planned construction products, we designed the new GEM portal with our users' need for quick and efficient lead generation and market analysis tools at the front of our minds. We hope you'll check it out for yourself!
Our business depends on the success of yours, so we want to help as best we can. Beyond the data, these tools are invaluable to range of our clients. Get more information about whether BuildCentral or GEM is right for you by checking out Who We Serve.
Market Leaders
Another BuildCentral staple now included in GEM is the Market Leaders function. For any given performed energy and mining projects search, we compile an empirical breakdown of market-leading developers, engineers, and land surveyors based on the number of their associated projects in planning and under construction. Our users depend. on Market Leaders not just to get a sense of who's getting lots of work, but also of potential developing relationships between firms.
Analytics
Users can access our Analytics tools without much work: just click the Analyze button located in the top right of the GEOSPEX dashboard in your GEM portal. You'll get access to near-real-time intelligence on just about any market. Here are some of the insights to take from Analytics:
Analytics from BuildCentral: What analysis does it offer?
Pipeline Analysis: Stages, Starts, & Completions
Location Analysis: States, Counties, & Cities
Project Analysis: Construction Types & Values
Company Analysis: Owners, Architects, & General Contractors
Saved Searches
The most successful BuildCentral users prefer Saved Searches to receive notifications any time projects within their specifications are added or updated in the GEM database. You'll catch great opportunities and beat the competition to them.
Complete Project Lifecycles
Like other BuildCentral products, GEM touts its coverage of projects from their early-planning and proposal stages all the way through completion. That means that our users often see project reports before permits have even been submitted for a given project. Our team of dedicated researchers updates projects every day, so when a project you care about sees any developments, you'll know about it. For more on our data and how we collect it, feel free to check out our Research Methodology.
Oil & Gas and Renewables: GEM Energy
GEM Energy encompasses both planned oil & gas and renewables projects. For these projects, we track and group projects according to the following stages: Proposal; Planning; Groundbreaking; Early Construction; Construction; Completed; On Hold/Postponed; Canceled; and Operational. For more in-depth information on each stage's parameters, check out our Oil & Gas or Renewables product pages.
GEM Mining
GEM Mining tracks planned, ongoing, and completed mining projects for a wide range of mining types. The mining project stages that we track are slightly different from the GEM Energy construction stages, though: Exploration; Drilling; Production; Definitive Feasibility Study; Plans in Progress; Development Approval; and Operational. To learn more about what defines each stage, visit our Mining product page.
Detailed Project Reports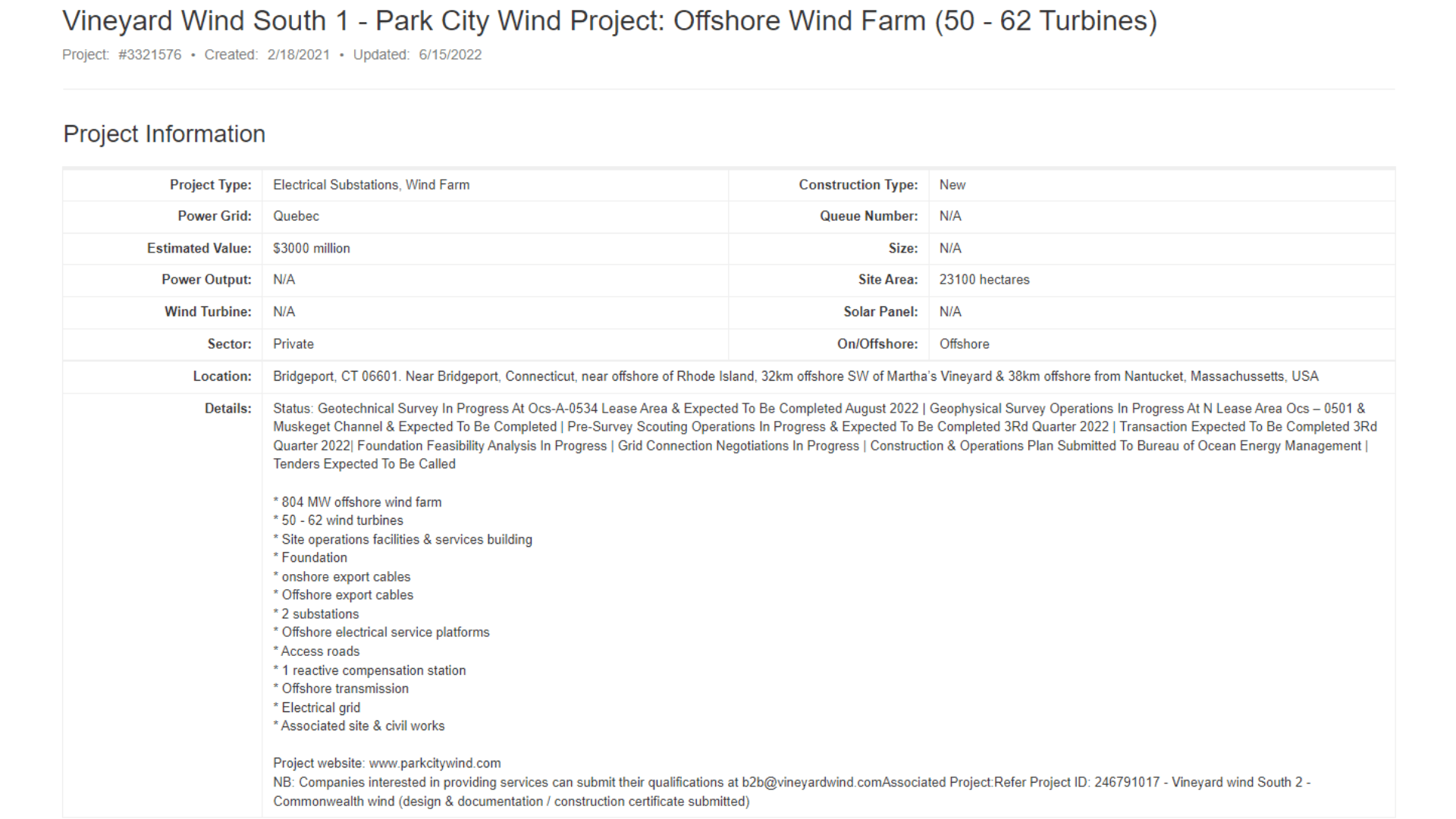 Construction Type, Stage, Value, & Schedule
For mining projects, we cover a wide-enough range of mining types that we came up with a special way to display them: The Periodic Table of Mining Resources.
As with all other BuildCentral products, though, GEM tracks and details construction stages, values, and schedules in each project report. We track renewable energy projects including solar and wind farms, hydropower plants, battery storage and waste-to-energy facilities, and more.
Relevant Project Contacts
Arguably the most important feature of GEM's detailed project reports is its inclusion of company contacts. We offer phone numbers and email addresses for individuals and companies associated with a given project so that you can get the right eyes on your bid as soon as you identify a potential project partner. Plus, we track company relationships so that you know who's working with whom and what they're doing.
Power Grid Interconnection & Output
The power grid interconnection and power output filters apply primarily to our GEM Energy product. BuildCentral is pleased to include data on each energy project's power grid interconnection, a unique datapoint in the industry. In North America, electrical projects and sites hook up to one of five main power grids: Eastern; Western; Alaska; Texas; and Quebec. New to GEM is the ability to filter your search for projects according to their power grid interconnection.
Additionally, we include in our project reports — and offer as a search filter — the planned power output in megawatts (MW) for each of our energy developments. Our filter allows users to enter custom value ranges to search only for the projects whose expected power outputs align with their needs or services.
Want to learn more about GEM?
If you found this blog informative and are curious about using GEM, or just getting more information, reach out to us here! We're looking forward to hearing from you. In the meantime, feel free to sign up for our newly released GEM Newsletter as well.